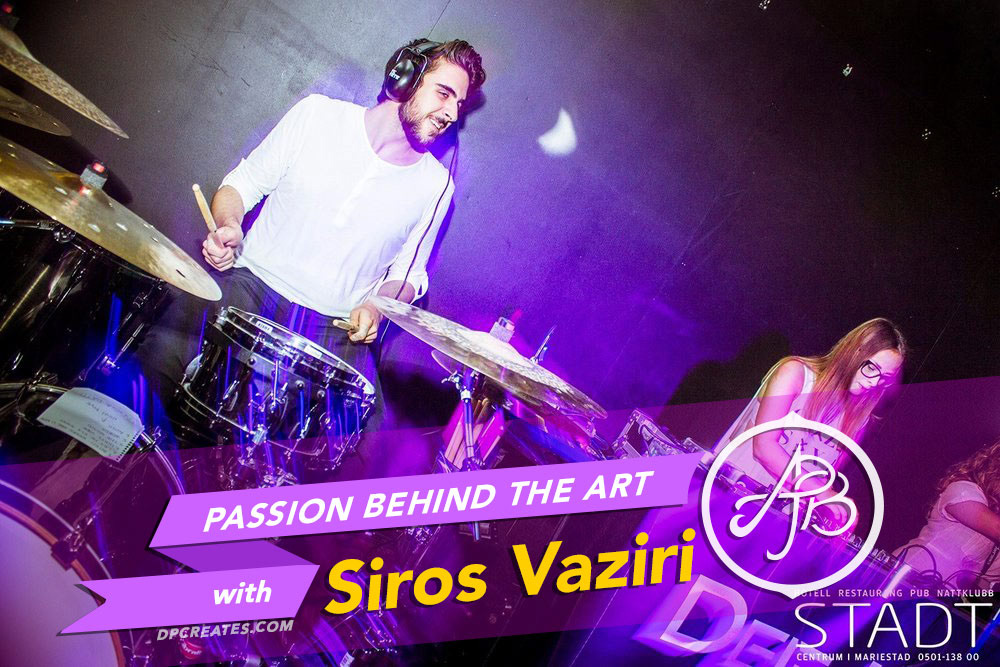 1. When did you fall in love with music(what age and the story of how it happened)?
When I was 9 years old, a group of teachers from the local music school came to my elementary school and showed off some instruments, inviting all the kids to come try out instruments later that month. I went, and originally I wanted to play either trombone (because it could make a cool sound like a race car) or flute (because a famous song from the Eurovision Song Contest at that time featured a flute lead melody). I ended up trying out saxophone, and immediately I could get a loud and clear note from the sax. I kinda just got the hang of it straight away, and then naturally signed up to play sax. I've been playing it since, and now I'm 21 years old, although since a few years back drums have been my main focus. I picked up drums when I was 14 for a very similar reason – during a music class in school, everyone in my class got to try playing drums, and when it was my turn I instantly got the hang of it. Little did I know that day would come to have such a huge impact on my life.
2. When someone hears your music what do you want them to feel?
I want people to feel inspired and motivated. I want my drumming videos, lessons and all the content I create to show people how anything is possible if you put your mind to it. I want that person who watches my video to instantly want to jump on their kit and practice their butt off. If I can achieve that, I can't wish for anything else.
3. Who was that person(s) that believed in you the most?
Throughout my journey so far, I've had a lot of people question my choice of lifestyle and my decision to put my all into making a career in drumming. Friends, family and others have been sceptical, but the one person that has believed in me since day one is my girlfriend Lovisa. She really supports what I do and fully understands my day-to-day struggles. I'm incredibly grateful for having her by my side, through all the highs and lows of life.
4. What was the greatest struggle you had to overcome?
I've been fortunate so far, and haven't had many struggles to overcome. With that said, the one thing that probably has been the most challenging to overcome for me has been my own lifestyle and discipline. I've always been the kind of guy who takes things as they come, procrastinate a lot and generally has a hard time maintaining good structure and pace in my life. When I decided to go all-in for a career in drumming, I really had to dig deep into myself and muster up some discipline to make sure I continuously made progress. It's been difficult at times to break my old habits, and that's still a bit of a work in progress, but I've come a long way from how I used to be. Nowadays I have very high ambitions and always keep myself busy with something to keep myself moving forward.
5. What advice would you give to other musicians?
There's a lot I could say, but if I had to choose one thing it would be this – above all, above skill, dedication and ambition, be a nice person. Stay humble, stay inspired, treat people as you'd like to be treated, reply to all questions people might ask, never think higher of yourself than of anyone else. If you embrace that mindset, it will show. People will take notice, and life will suddenly become a whole lot smoother when people want to work and connect with you because of WHO YOU ARE and not only for what you do.

THIS WEEK'S INTERVIEW PARTNER